カワラヒワ : Oriental Greenfinch
Carduelis sinica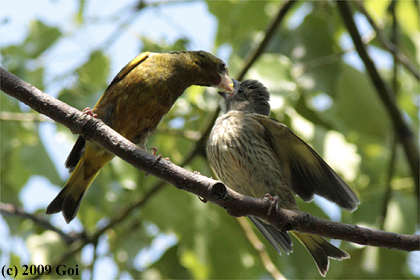 ある夏の日に、カワラヒワ (オス) が幼鳥に給餌していました。
One summer day an Oriental Greenfinch (
males
) was feeding a juvenile.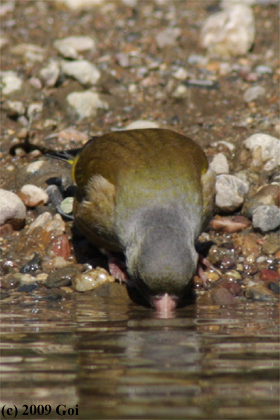 ある秋の日に、カワラヒワ (オス) が川で水を飲んでいたようでした。
One autumn day an Oriental Greenfinch (
males
) was seemingly drinking water in a river.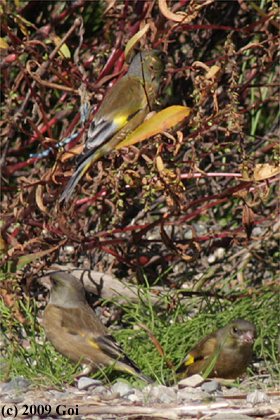 河原では、数羽のカワラヒワが何かを啄んでいたようでした。
左下がメスで、その他はオスです。
In a dry riverbed, several Oriental Greenfinches were seemingly picking something.
The lower left side is females, and the others are males.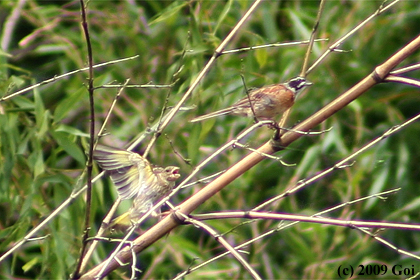 ある夏の日に、幼鳥のカワラヒワ (左下) がいました。
ホオジロ (右上) を追い回していました。
One summer day there was an Oriental Greenfinch of juveniles (
lower left
).
It was chasing a Meadow Bunting (
upper right
).
ある冬の日に、カワラヒワがいました。左側がオスで、右側がメスです。
離れずに歩いていました。
つがいかもしれません。
One winter day there were Oriental Greenfinches. The left side is males, and the right side is females.
They were walking without separating.
They may be a couple.